Finally I've found the best foundation & concealer!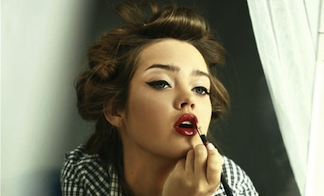 It's been a long search for me (Clarissa) as a makeup artist to find the perfect foundation for myself and for my clients. As a makeup artist I've worked on everything from fashion shoots to movies and I'll tell you I had to pay for a storage space to house all my makeup! Finally after 9 years of trying every single foundation out there I have fallen head over heels in love with RMS Un-Cover up ( foundation and concealer in one). Even as a makeup artists I never wore foundation on a day-to-day basis. This was mostly due to the fact that it felt like a liquid mask every time I put it on. I hate the heavy, oily, or even drying feeling of liquid and powder based foundations. At the same time I always wanted to be able to find something I could wear everyday to just to make my skin look better.
I have a tendency to break-out really bad so I'm always looking for something that will keep my skin clear but something that will also cover those bad boys. I can always notice when people cover their pimples and it's my biggest pet peeve. Most of the time product just makes them look even more pronounced or dried out. So after using every tinted moisturizer out on the market I came to the same conclusion; they don't stay on my skin longer then 1 hour and they don't give enough coverage.
Solution!!! I found un-cover up and I'm obsessed. I will never look for anything else ever again. I've actually given it to all of my friends on their birthdays within the last 6 months because everyone just needs to try this stuff. The only down side is that they don't have shades for African American skin yet. They makeup line is all organic (preventing certain shades from being created) and has zero water in it making it bacteria free! Don't you hate when your foundation starts to smell funny? That smell is from the bacteria growing inside...eww throw it away!
Positives:
Feels like your wearing only your skin
Amazing coverage that looks like skin
Not oily and not drying
Hydrating like a tinted moisturizer but better coverage
Makes your skin look healthy (slight sheen)
Negatives:
They don't make shades dark enough for darker skin tones
I don't think of this as a negative but some people don't like the sheen. This usually occurs when I work on someone who was taught to always wear powder over everything. It's so much more natural to have a sheen then to look matted down but that's just my theory. You can always put powder over the un-cover up but if you do only use a blot powder (powder with no color in it).
If you want to check out the product call us and schedule a complimentary 15 minute makeup lesson with Clarissa (myslef)! I'll show you how to use the product and find the right shades for you.
xoxo Clarissa