Bloom How: Warm Winter Drinks
Old man Winter has us all running for the covers. Turn up the heat with one of these warm and cozy drinks... Spiced Mulled Wine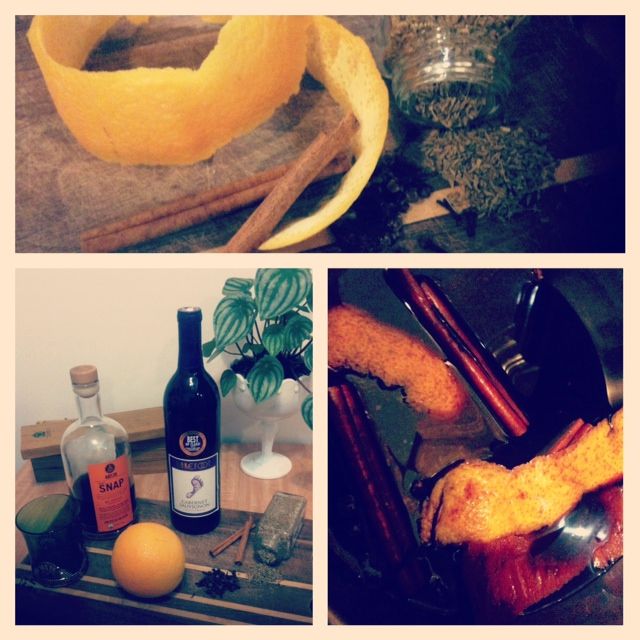 1 Bottle of Red wine (it does reduce down quite a bit) 1/4 Cup Brandy (I used Snap as an alternative) 1 Orange A Mix of Spices (Easiest when put into a cheese cloth pouch) 1 tbsp cloves 1 tsp cinnamon 3 Star Anise or 1 tsp Anise Seeds
Combine all liquid ingredients into a pot. Cut the orange in half, using one half of the orange to zest and for its juice, add both to the pot. Then, cut the other half into rounds and throw them into the pot as well. Use a cheese cloth for your spices, if available, or just try not to scoop them into your mug. Simmer on low to medium heat for 20-25 mins.  Stir occasionally and avoid boiling. Ladle into mugs and enjoy!
Also, you cannot go wrong with a Hot Toddy. Here is my go-to recipe!!
Hot Toddy
Whiskey or Brandy ( I like to use Jack Daniels Honey whiskey) Green apple Honey Ground Cinnamon Cinnamon Sticks (for garnish) Cloves Lemon Allspice
Super easy to make! I cut the apple into wedges, and half of the lemon into rounds. Squeeze the other half of the lemon into a pot. Using whole cloves, I like to wedge them into the lemon rounds so they don't float all over. I then add all the ingredients to the pot and bring it to a boil. Voila! All set!! Ladle into a mug, garnish with a cinnamon stick and warm up.
-Elle