Bloom Specials!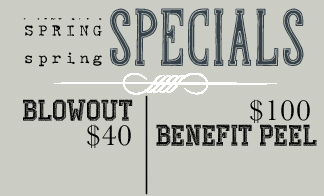 Hopefully this winter weather will let up soon and spring will start to Bloom! In the meantime Bloom into your new spring look with these specials:
Late Night Blowouts for $40 (7 & 8pm appts Tues-Fri)
Get a BENEFIT PEEL for only $100! (regularly $125) This antioxidant peel is great for brightening and lightening dull skin. It repairs, nourishes, and protects with minimal peeling...perfect for this winter!
As always, get your first BLOOM CLASSIC FACIAL for $25 off. (regularly $150) This a customized 90 min. service by Claudia that includes a thorough skin analysis, enzyme exfoliation, steaming, extractions, restorative mask, as well as a neck, arm, and shoulder massage.
The Bloom classic facial comes highly recommended from the entire staff at Bloom!
*Spa Specials cannot be combined, sorry.